Sarah Wendt and Pascal Dufaux share an art practice that takes form in sculpture, media art, installation and dance. Their collaborative methodology seeks to imbue their projects with strange forms of temporality and heightened articulations of labour to draw forward an environment that melds science fiction to reality.

They live and work as uninvited guests on the traditional land of the Haudenosaunee, Mohawk and St. Lawrence Iroquoian inTiohtiá:ke/Mooniyang/Montreal.
The mountain moves while my fingernails grow
2022

Installation: two-channel video projection, photography, glass, honey, moss, fabric, vinyl, acrylic tubes, plywood, glue, plaster, metal, wood, mushrooms

An oneiric fiction that forges video, sound, motion and sculpture into a swirl of pop-apocalyptic imagery.

In this installative configuration the diverse elements come together to generate a destabilizing view. On a table are presented closed vases resembling laboratory flasks in which honey flows slowly like an hourglass. A two-channel video projection captures the eye with a pop-apocalyptic scenario amongst sound instruments, organic and performance artefacts. The video footage shot in Newfoundland's Tablelands, provides an otherworldly aura. The overall presentation is somewhere between a quasi science fiction landsite, or perhaps, a re-examined archaeological past; either way, the overall effect lands the viewer in a charged, oneiric entourage.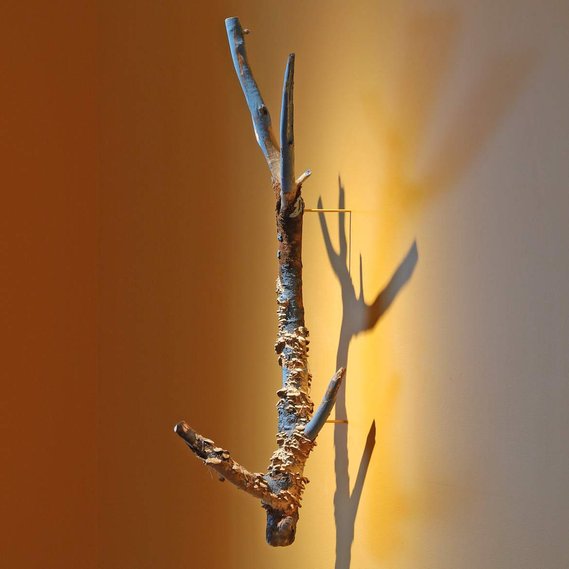 Exhibitions:
The Rooms, St. John's, Newfoundland and Labrador (Canada), 2022, Curated by Mireille Eagan
Axenéo7, Gatineau, Quebec, (Canada), 2019, Curated by Jean-Michel Quirion (Quelque part dans l'inachevé)
Supported by: Canada Council for the Arts; Conseil des arts et des lettres du Québec
Residencies:
AIR - Gros Morne National Park, Parks Canada and The Rooms
Axenéo7, Gatineau, Quebec (Canada)
" Even as their tongues are planted firmly in their cheeks, Wendt and Dufaux seem to ask: Is humankind's heart, underneath our sometime pleasant exteriors, even here in an art gallery some sunny summer afternoon, likewise as strange and brutal? What really is the significance of human culture in the face of geological time? And what meaning does artistic enquiry have vis-à-vis widespread planetary destruction, and indeed, the widespread planetary creation the Tablelands represent? "
Craig Francis Power, Billie Mag 2022